Today we bring you a post from Thea Vaxevanou, UX Researcher at Antidote. She loves Anthropology, Psychology, Films and obviously, games :). Her first console was a PS1 and her favourite games are Red Dead Redemption 2 and Crash.
On the 6th of October, I attended the Dutch Game Day (including Dutch Game Awards) at Hilversum (Netherlands). I still can't believe how much more innovative, inclusive, and diverse gaming has become since I first held a PS1 console in my hands.
During the event, I attended many capturing talks from experienced people in the industry and also fresh perspectives from newcomers. Today, I am sharing some valuable UX gems with you: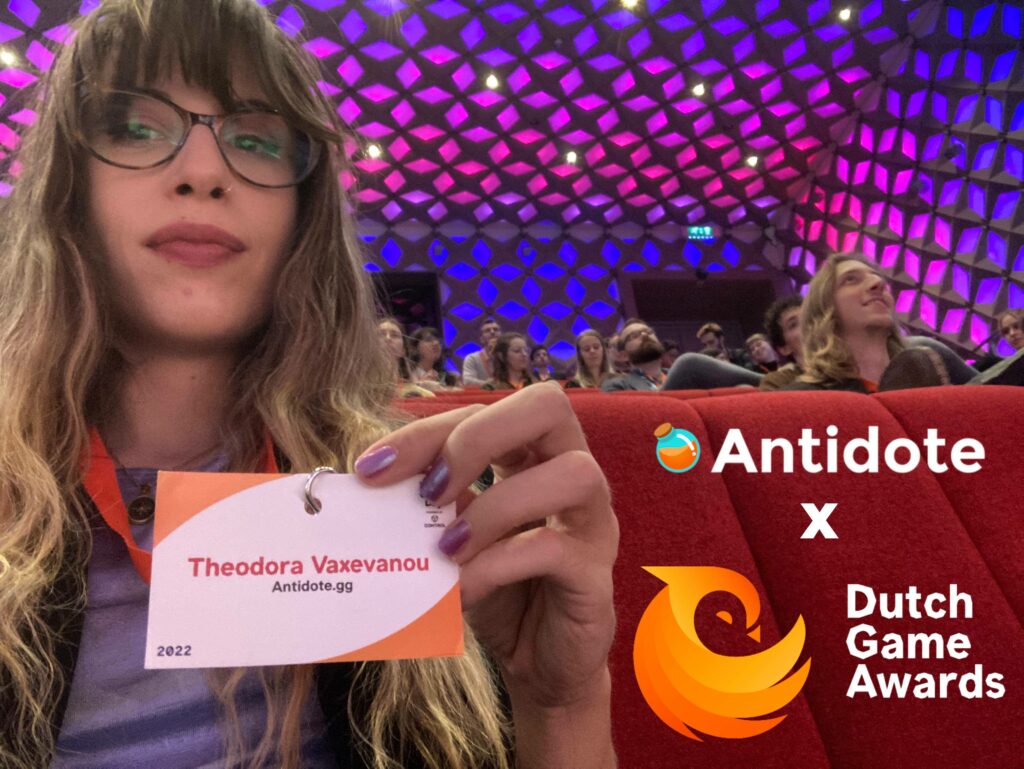 Thea Vaxevanou, Antidote's UX Researcher, waiting for a talk to start at the Game Dutch Day.
Elisa Farinetti:

Hundred days - A postmortem on a winemaking sim game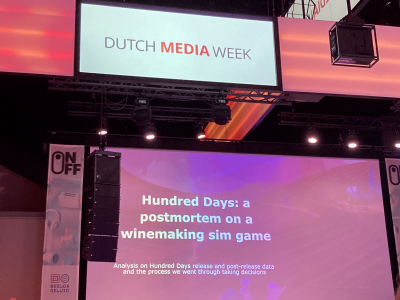 "During her talk, Elisa reminded us that we can learn a lot from their mistakes as indie developers.
Her

 

honesty

and

transparency

was greatly appreciated by the audience as learning from our mistakes is really the only way to make successful games."
Localization and community engagement are key variants for success. But why? Well as Elisa explained, when making a new game it is important to ask: does anybody actually want this game?


Engaging your community early on and constantly communicating your game will have a significant impact on its success. According to Elisa, giving their community a free mini game on discord to keep them engaged while they were waiting for new releases to come, was a fruitful approach.


Don't discount very quickly: Instead go down slowly! Keep following your user base.


Cross promotion with other indie developers – created a bundle and they sold 8,000 dollars worth of copies.


Prepare yourself for quite a marathon – a good start is good, but make sure your legs will last for the whole journey! Good sales on DAY 1 does not guarantee a good business overall.
The Antidote UX Researcher's opinion
Some of that information can help other game developers to take care of
already released games, grow their audience and engage their communities
and possibly make more unexpected money!
Tymon Smektala: How to design AAA sequel-methods used during the pre-production of Dying-Light 2 Stay Human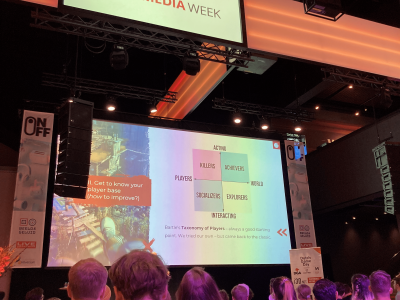 "I was honestly very engrossed by his speech. He filled the room with his

humorous

and

honest approach

, talking about how they made their internal ambitions a successful reality."
Key points to have in mind
Focusing on the ideation process. They spend a lot of time there, to make sure they made the right decisions that would impact the whole production.
Analyzing everything! Including Steam reviews, streamers, trophies, completion rates, youtubers and data gathered in-game.
Deciding which things they needed to cherish and what to improve. Use the familiar to introduce the new!
Give your players a new angle as well!
Give them freedom and agency (a core problem that the new sequel his team built, was trying to solve). For example, they took some modern buildings and added materials that would remind them of mediaeval times.
And a tip by Tymon:
"Be humble. When you start making a new game
there is a lot that you will find out later".
The Antidote UX Researcher's opinion
Tymon's team realised that people don't want to change what already works perfectly for them and that, from a UX perspective is very wise.
Using the familiar assets from the previous game to explain the new is thinking about the player first.
And how did they do this? They created a player experience movie, by making a prototype of the second game using assets from the last game. This reminded me of two famous UX heuristics: recognition rather than recall and don't force me to do it our way.
Pawel Sasko: Key quest design lessons from The Witcher 3 and Cyberpunk 2077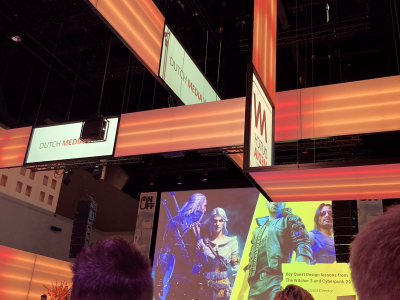 "Pawel Sasko's – the quest director for The Witcher 3 and Cyberpunk 2077 – talk was the last one before the Award ceremony. The room was filled with people and my fingers were typing faster and faster to make sure I didn't miss any crucial point. And once you read them, you will find out it was totally worth it!"
Engagement: the audience wants to work for the next piece of the story and the deliberate absence of key information is instrumental.
Brevity: most quests benefit from getting to the point of the plot quicker.
Fun: we are making games to entertain people!
Impact: from the get-go, design a story with the goal to impact the player emotionally.
Consequences: delayed and really delayed consequences make the biggest impression on the players.
Novelty: experiment with new topics and ideas in theme, especially things that nobody has done before.
Effectiveness: pay attention to what other designers are working on to avoid repeating the same ideas, so varied content is created.
The Antidote UX Researcher's opinion
As Pawel said, we often feel uncomfortable to slow down in (narrative) games, as sometimes developers panic and think they are being boring. But that's not the case necessarily.
These slower moments where the player can interact with other in-game characters, are actually an opportunity for immersing your players and delivering the narrative in a more humane way. 
And as gathered data and research indicated, these are also amongst the strongest moments for streamers as well! 
To use a famous usability heuristic: it's a match between system and the real world.
Bonus story from Esmeé Van't Hoff's talk: Wholesome games: Cultivating kindness in gaming
During the talk of Esmeé, she asked from the audience to help her make a wholesome game together on the spot by using the following formula: an animal + something like a characteristic + an activity. So she passed the microphone to three people who raised their hands:
The 1st person said : a capybara!
Then she passed the microphone to me: I said , "who is a perfectionist"
Then the 3rd person said: is learning how to knit!

Esmeé, who loved the idea, said everyone can create a game, and that she sincerely hopes someone makes this game. As an Antidote UX person and a woman in the gaming industry, I want to give you two key takeaways from this talk:
Challenge what it means to be a gamer.

Change which games are taken seriously.
Closing this blog post with a question that Esmeé posed during her talk:
"At what age did you first consider yourself a gamer?"