On International Women's Day, we commemorate the age-old fight for women's rights and equality in every aspect of the word. This day is also an opportunity to keep empowering and showcasing women's accomplishments everywhere.
At times, we realise we are in the year 2022, still going through a global pandemic, and we notice paradigm shifts, which are sometimes so significant that we may think everything was taken care of. But the numbers beg to differ, and as we all know, we should always pay attention to the numbers.
Since we are still going through these changes, to comprehend them and see how much progress we made (and how much we have to keep going) can become a hard task.
To me, one of the most accessible and clear ways to grasp these changes is through traditional media and entertainment. That's what I do, it's what I know, and most importantly, what I consume the most. Here we can clearly see a shift in how women are portrayed and included, we notice a new-found respect for them. What used to be the norm only a few years back, now wouldn't be accepted (this, however, does not prevent it from happening to this day).
Now I would like to dive deep into a world that is very significant to me, and that involves everyone here on Antidote, which is the Gaming Industry.
In this space, something similar happens, although the changes might seem a bit slower, we can't deny the progress we have made all these years. Now more than ever, we see more strong female leads in video games, more opportunities to participate in Esports events and most importantly more female leads in the business of gaming.
Video games represent a hobby for a lot of people, a way to disconnect and for some, even a place of comfort, that's the way they are marketed, because that's their purpose. However, for women until not too long ago, video games seemed like unconquered territory, a space that we will never get to call our own.
And this is purely referring to the consumer aspect, not the business side, but that's the main issue. If it's shown as a space that's so unattainable and unbecoming for us, there's even less chances to see it as a possible way to acquire a livelihood. Fortunately, things are slowly changing (excluding, of course, the constant harassment that women are exposed to when playing online games, in that area we still have a loooong battle to fight).
Let's take a look at some statistics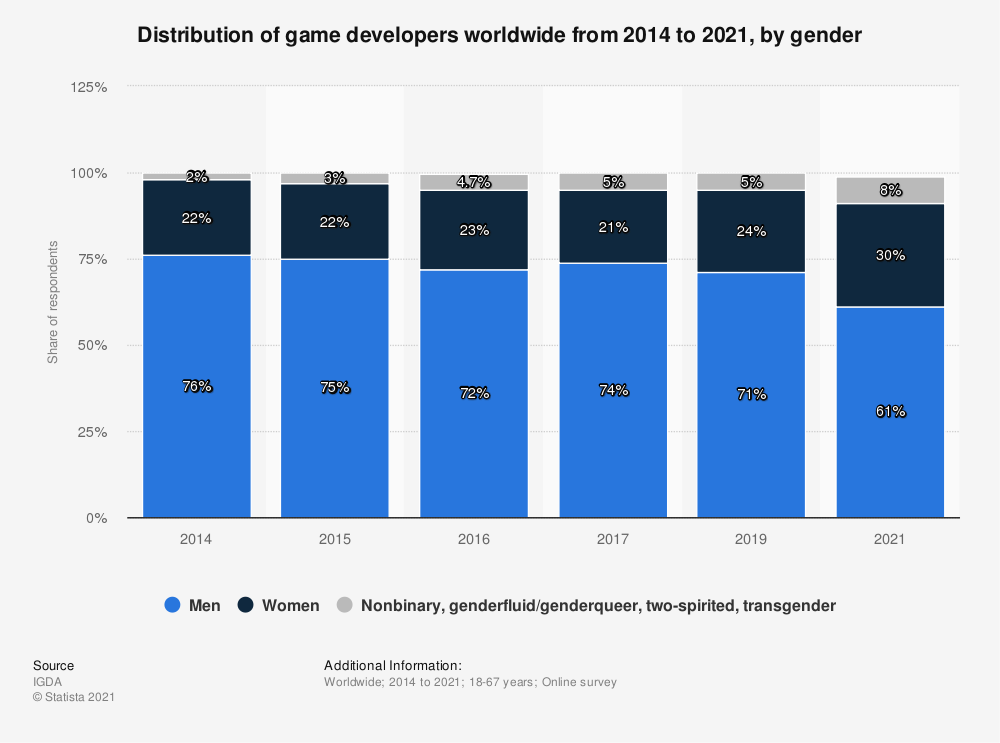 Figure 1. Distribution of game developers worldwide from 2014 to 2021, by gender.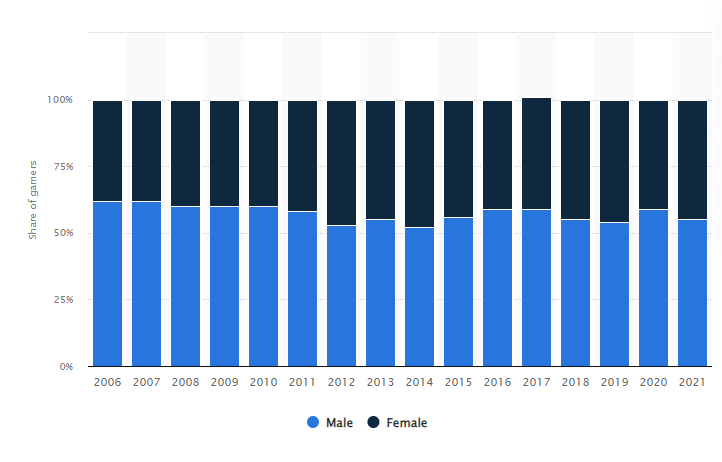 Figure 2. Distribution of video gamers in the United States from 2006 to 2021, by gender


Although we can clearly see that there's been a growth in the number of women, we can also see that this industry is still male dominated, and not only that, but the majority of the most famous faces in gaming are men. But, we should also take into account that women make up 45% of the gaming community, which means there's at least an interest in the field.
As the industry continues to grow, there are more and more people that see pursuing a career in gaming as a real possibility. Nowadays, women are choosing an education in STEM, a field that not too long ago seemed to be just for men.
The Women In Games official site explains that there are more women than ever in leadership positions in game design, development, User and Player Experience or even publishing companies.This is due to the new-found access to the gaming industry, a place that seemed like such a mystery, information is just one click away.
Why we need women in the gaming industry
The way that media represents gender roles, will define the way we later co-exist, the way we treat them in a real life setting. Now there's a lot more inclusion of women protagonists in video games, and not only that, but having access to the data previously presented, also helps change and prevent the pattern.
It has been proven that this female representation in video games brought only positive responses from the public, and that's the key: Nothing is more important than representation, because later on, it will serve as inspiration for future generations. But without opportunities, we have nothing. Not too long ago, it was believed that "women don't care about video games" but now we see, that's far away from the truth, we just needed a place to show what we could do.
It's in the important places, where decisions are made, that we need to be included the most, where we need to see real change. The performative approach, (which, to be clear, helps a lot) can only do so much. Us women deserve our seat at the table, to have our vision and ideas taken into account.
As I mentioned before, there's still a long way to go, but we are definitely on the right track. Let's keep empowering women in the industry, creating safe spaces where we can develop our abilities and finally, let's keep boosting a different point of view in the gaming industry.
Influential women on the industry that you should know about
Before I go, I would like to highlight just a few women that are making a difference in the gaming industry, and that are probably behind some of the games you know and love:
Agnes Larsson, Game Director of Vanilla Minecraft, have you ever seen any Minecraft livestream? Then you have probably seen Agnes.
Amy Henning, writer and director of all the Uncharted games. Not too shabby.
Kim Swift, game designer, she is one of the geniuses behind some small indie games you may have heard about such as Portal and Left for Dead 4.
Aya Kyogoku, designer and scriptwriter, one of the people responsible for creating Animal Crossing, no biggie.
Celia Hodent, former Director of UX at Epic Games and none other than Fortnite!
And it's also important to recognize the work that women are putting into creating spaces and communities to let people develop in this field.