As most of you might already know, the gaming industry is quite new and so it is the education related to it. In fact, it is so new that last year was celebrated the tenth anniversary of the first video game university degree in Spain. That is a very short time compared, for example, to the appearance of the first videogame in the early 1950s. Or even shorter compared to the millenary field of study of philosophy. Today, as we know some of you are deciding your future career, we're going to talk a little bit about studying video games and what comes with it.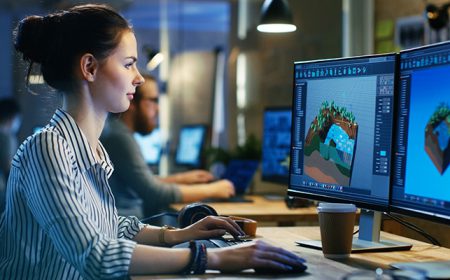 First, let me introduce myself. I'm Júlia Blasco, the new Game User Experience Intern at Antidote. I am also in my third year of Video Game Design and Production degree. When I had to decide my professional career, I didn't even know there were degrees to learn how to develop video games. This is one of the reasons why I'm sharing my stroy from Hardcore Gamer to UX Designer, so that you can be informed about the steps I took.
Even though I had always been a hardcore gamer I never thought about how video games were made. When I came across with this finding, I started to get informed and interested in the subject. Now I see the production of video games as a huge opportunity to create things that others can enjoy. I have always enjoyed playing, but now I am the one helping to create that fun. And I love It!
1. Which Degrees can we find inside the Video Game studies?
Fortunately, nowadays we have a wide variety of opportunities to choose. The first degrees to complement their syllabus with subjects related to the industry were the multimedia ones. These involved video games mostly for the theory, and sometimes with some practical exercises to develop. After that, the first gaming careers started to properly establish. Today, in 2021, we can find many types, as the gaming industry extends in many branches. The most relevant are: art, design and programming. In each of these branches we find thousands of specializations. For example, in the case of art, we can find roles in the industry from the most generic to the most specific: 3D artist, animator, character artist, environment artist, you name it! And the same goes for designers: game designer, monetization designer, UX / UI designer, level designer… With programming we can find roles such as: AI programmer, physics programmer, network programmer, tools programmer… As you can see the gaming industry provides many disciplines in which you can specialize.
2. Where can I study to work inside the Gaming Industry?
In terms of education, we not only find universities that offer such degrees but also a wide variety of courses to choose from. Keep in mind, however, that each university or school has a very different syllabus. Being such a new degree still on the shaping, no educational basis has yet been established for all universities to follow. In consequence, there are universities that are specialized in one of these branches and others that aim to focus on a little bit of each.
Depending on the specialization and the university you choose, the first type can include much more than video games. For example, in the case of a degree specialized in art, we will find that students not only learn to make 3D art applied to video games, but they also extend it to other industries such as cinema. Other degrees are purely specific to video games, such as the video game programming, where they learn widely extended programming languages, complex behaviors, different game engines or even teach you how to create your own.
In my case, I am studying at a university that encompasses all branches of video games. A degree that is completely focused on video game production, so we learn to develop a project from all perspectives (art, programming, design and production). We are able to perform in each of those areas, which let us become a very competitive and polyvalent professional inside the gaming industry.
Now it's your turn. After seeing all possibilities there are in these degrees, it is in your hands to choose your future wisely. If you have true passion for videogames and believe you can leave your mark in the videogame industry, take the big step forward and go for something out of the ordinary!