We are opening a new category of blog articles, giving you on a regular basis insights about trending, popular or undiscovered games. Starting today with the Steam-success Little Nightmares. Here's our review! After months of work, the Malmö-based studio
Tarsier
released last April a
long-awaited opus
by most of the game industry observers,
Little Nightmares
. Mentioned as a game that will confront you with your childhood fears, is the final result consistent with all the expectations?
A classic platform game with innovative designs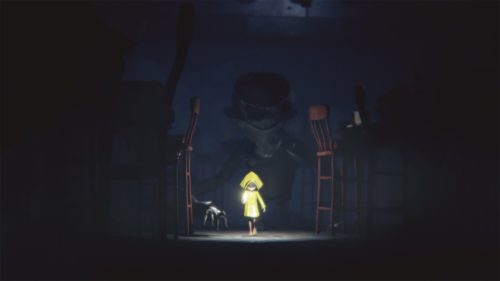 Little Nightmares is not a revolutionary game, but uses the good-old recipe of captivating and retaining platform games. The game throws you immediately into a mysterious universe and its intriguing atmosphere, enhanced by subtle references to masterpieces of the genre – Tim Burton and Jean-Pierre Jeunet among them. Elaborated and very enjoyable graphic designs accompany us throughout the long journey of Little Nightmares, taking place in a marvelous world based on a moving ship. A discrete but well-adapted soundtrack fits very well to the different in-game situations. An incredible universe that would be sufficient enough to convince any skeptic to buy the game.
Gameplay: a simple but challening adaptation
Run, walk, hold on to doors, pick up objects, light up the lighter and jump, are the actions available in the game. The gameplay is really simplified to, theorically, get you used to the controls of the game as fast as possible. Theorically only, as some situations will lead you to make some unintuitive movements with your controller, when you need to catch a moving object for example. An important freedom is given to the user and the character movements, and the lighter is mostly used for narrative purposes. Too much freedom sometimes, you will need time and patience to learn to move correctly from one place to another, and avoid the falls! Luckily, despite this little con, the enigmas and missions are very intuitive and catchy. Any player will surely enjoy quickly enough the plot of Little Nightmares, as it is very easy to immerse yourself in this world.
You've got no time to breath in this game. All the adventures flow successively and are connected to each other very well. A few shivers won't distract you from your objectives, but your taste for art might make you stop in the middle of some levels. The game leave us with a lot of questions: what's gonna happen next? Is there a second opus coming out? We do hope so, and the end of the game might seem to indicate it…
Have you bought the game yet? Discover it here! We'll be giving it away soon to one of our testers. Sign up now!